GodsGirl : Fatima > profile last activity : 2 months ago // Favorited by : 20 members
Personal Photos
view personal photo album
Fatima's Friends
Fatima's Fave Models
Khamille
Catra
Ayame
Stacey-Beth
Jenna
Mary
view all 17 fave models >
Fatima's Fave Sets
Fatima's Journal
 so yeah, they are gone, back to wicked short blonde hair..
A girl needs change sometimes..so its still a bit of a shock to me...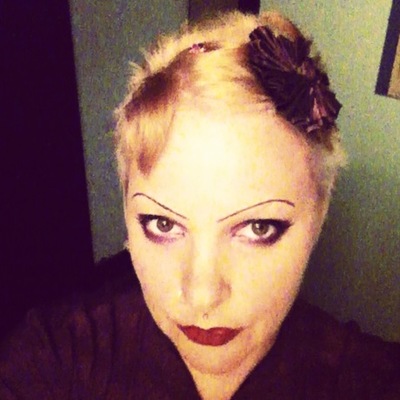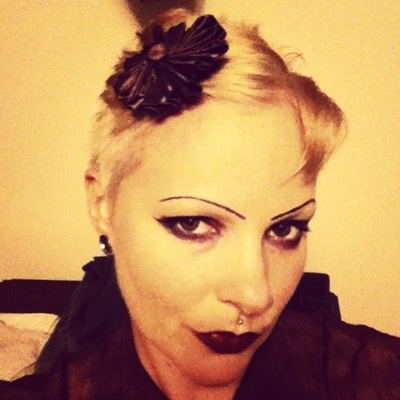 so i think i will have to do a photo shoot with my new do..
oxox
so what do all you dears think?
read full entry >
view all 85 journals
User Info
Name Fatima
Age 100
Occupation Costumier,Artist, performer, model
Location New Orleans and surrounding areas
Hometown New Orleans
Sign Aries
About Me Well they call me the southern belle from hell back home. I like to raise a little hell, make people use that grey matter called a brain and create art!! My main goal is to make someone laugh at least 3 times a day..Laughter cures most anything you know. "The most horrific thing is life itself" Francis Bacon. Fatima is my name, raising hell is my game
Why Im a GodsGirl GodsGirls believes in unicorns, flying horses, and carebears. Add glitter with some motherfucking pixie dust and you got the HOTTEST CHICKS ON THE PLANET WHO ARE HERE!!!! BEAUTY IS ATTITUDE AND A LITTLE BIT OF INK WITH A SPRINKLE OF SCARS AND GLITTER. HELL YEAH..
Superhero Power BORIS KARLOFF
Sexual fantasy sorry boys, but my man kissing me ALL OVER..for 6 hours
Weapon of Choice FLAME-THROWER
Hobbies Collecting vintage everything, painting, singing, but these really are things vital to my existence..so would they count as hobbies?
Music opera, old country, Billy Holiday (Lady Day)skinny puppy, metal, jazz, punk, hank williams, did I mention him?
Movies Dawn of the Dead, Night of the Living Dead, The Cabinet of Dr. Calagari, Boris Karloff anything, Bella Lagsoi anyting
Books Biographies!! Reading about Mary Robinson right now.
TV Sopranos, Rome, 6 Feet Under, DeadWood and Carinvale
Art Francis Bacon, German Expressionsim, Manet, Jackson Pollack, the Bauhuas Movement
Food Veggie/Veggies and more Veggies
Education Working on my MFA in Costume Production and Design
Status In a Relationship
Orientation Straight
Ethnicity Horrifically Irish, German, French, with Cajun
Birthday mar 29
Who I Idolize Patsy Cline, Gypsy Rose Lee, Blaze Starr, BILLY HOLIDAY
Goals Finish my MFA in costume production and design, design on Broadway!!
Bedtime attire vintage gowns or nude
Nerdy Secret Pleasure come on , i am a total nerd..I LOVE PENS..i steal them all the time!
My Favorite GodsGirls OH come on now..the heavily tattooed, fiesty ones!!
Unicorn or Pegasus? UNICORN/flying unicorn, come on!!!
if Patrick Duffy was shooting lazers at you how would you defend yourself? the CARE BEAR STARE!!!
My Website
http://fatimaofgodsgirls.tumblr.com/