GodsGirl : Faline > profile last activity : 7 days ago // Favorited by : 56 members
Personal Photos
view personal photo album
Faline's Friends
Faline's Fave Sets
Faline's Journal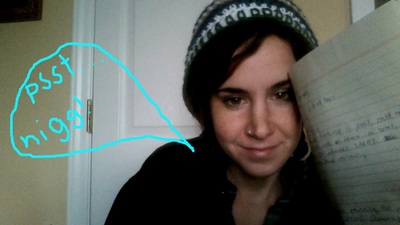 How was everyone's holiday season? Mine was fantastic:
Some cold nights I slept in a wool sweater and a hat but in those mornings I could wake up, put boots on, and hike the park with the pups. I could do an hour of first-thing-start-your-day-off-right yoga. And then play my heart's contents worth of Borderlands 2 until we finally beat it. And now
...
read full entry >
view all 13 journals
User Info
Name Faline
Age
Occupation holistic health
Location mid-appalachia
Hometown the mouth of the winooski
Sign Cancer
About Me feminist/fetishist/wannabe bukowski/smut lover
Why Im a GodsGirl fun!
Superhero Power fulfilling quests
Sexual fantasy an isolated shelter with a handful of fungi, a harmonica, and a bearded man to play it
Weapon of Choice a killer sense of humor
Hobbies honing my imagination, yoga, body mechanics
Music why? sweatshop union, metric, elvis, radiohead; sam cooke. doo wop and blues.
Movies death proof, kalifornia, wild at heart, he died with a falafel in his hand, romance and cigarettes; the big lebowski
Books the book of flying, a life on paper: stories, the howard zinn reader, lost girls, the bluest eye; any sequences of words by bukowski
TV twin peaks; the office
Art nan goldin
Food fresh
Education is never over
Status In a Relationship
Orientation No Answer
Ethnicity pale
Birthday jul 08
Who I Idolize howard zinn, charles bukowski, nan goldin
Goals to reconstruct a small animal skeleton and grow pretty and edible things
Bedtime attire sleazy
Nerdy Secret Pleasure learning muscle actions
My Favorite GodsGirls Liesl
Unicorn or Pegasus? pegacorn! both at the saaame time!!
if Patrick Duffy was shooting lazers at you how would you defend yourself? a shield?
My Website
http://skinspiration-station.tumblr.c...