GodsGirl : Blath > profile last activity : 3 days ago // Favorited by : 147 members
Personal Photos
view personal photo album
Blath's Friends
Blath's Fave Sets
Blath's Journal
Past Boobs, Present Boobs, Future Boobs
posted : 02/05/14 at 04:34pm pst
listening to:The Little Mermaid
BOOBS TRANSCENDING THE VERY NATURE OF TIME ITSELF (sort of).
Sooooo the dreamy 4-girl set went up! Finally!
With me & @Auryn & @Kiff & @Vex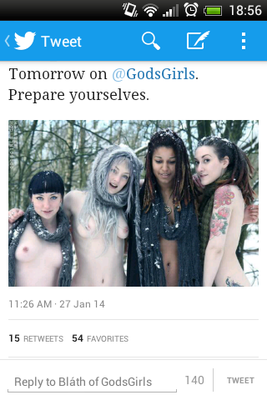 (probably my most popular tweet ever)
We are all terrible and unorganised and the worst (well, I am. Im sure everyone else is great) so this set actually went up a full YEAR after it was shot.
Its still pretty
...
read full entry >
view all 22 journals
User Info
Name Blath
Age 20
Occupation Photographer
Location London, England, UK
Hometown London
Sign Leo
About Me Pint-sized punk photographer who likes to get her pink out :D
Why Im a GodsGirl Wh... Why... This is a silly question. Have you SEEN this site?!
Superhero Power Endless pants forever.
Sexual fantasy
Weapon of Choice Bat. The object, not the animal. Dont be ridiculous.
Hobbies Taking photos. Being naked. Taking photos of being naked.
Music
Movies
Books
TV
Art
Food ALL FOOD (except the meaty types)
Education
Status Single
Orientation Straight
Ethnicity
Birthday aug 16
Who I Idolize
Goals
Bedtime attire
Nerdy Secret Pleasure Sometimes I watch Marvel films and touch myself. Whoops.
My Favorite GodsGirls The confused old ladies and innocent girls at church on the #godsgirls tag on instagram. Poor things, they know not what they do.
Unicorn or Pegasus? Pegasus. I have enough horn as it is.
if Patrick Duffy was shooting lazers at you how would you defend yourself? I'd throw small bits of seafood at his kneecaps
My Website
blathh.tumblr.com